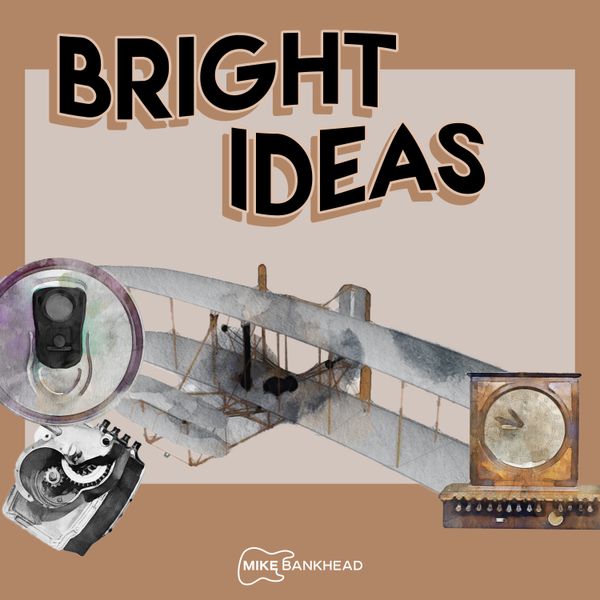 This song started as a voice memo, a brief line of lyrics and the slightest suggestion of melody sung to my phone. The line in question was this one:
tell your teacher I got some bright ideas
Admittedly, that's not much to build a song around. The concept of "bright ideas" stayed with me.  I live in the Greater Dayton area, and this is a place that has seen many inventors and creatives. I decided to build the song into a love letter of sorts to the Gem City and to the thinkers who called this place home. I also decided to try to write a Guided By Voices song.
The second thing I wrote was the riff for the outro. I did the writing on piano, but I knew from the beginning that I would want that hook played on guitar and also sung. I knew from the beginning that I didn't want to include a traditional "chorus" with the song, and that I wanted it to be short and punchy.
My thanks go out to Dr J at WUDR and Juliet Fromholt at WYSO for playing this song on the radio.
I am also thankful to the personnel who played on this single. Here are the credits:
released March 31, 2020 
Music & Lyrics by Mike Bankhead 
Bass, Vocals: Mike Bankhead 
Guitar, Vocals: Eric Cassidy 
Drums: Brian Hoeflich 
Vocals: Patrick Himes 
Produced by Patrick Himes & Mike Bankhead 
Engineered and Mixed by Patrick Himes at Reel Love Recording Company, Dayton, Ohio 
Mastered by Alex McCollough at True East Mastering, Nashville, Tennessee 
Art by Ashka RA 
©℗2020 You Could Be My Aramis Music (BMI)
***
"Bright Ideas" was taken down from global streaming services when I changed distributors, but it will be back TOMORROW, Tuesday 22nd March, 2022.