Time to fire up the wayback machine again, and indulge in another concert memory.  Feast your eyes on this well-loved ticket stub.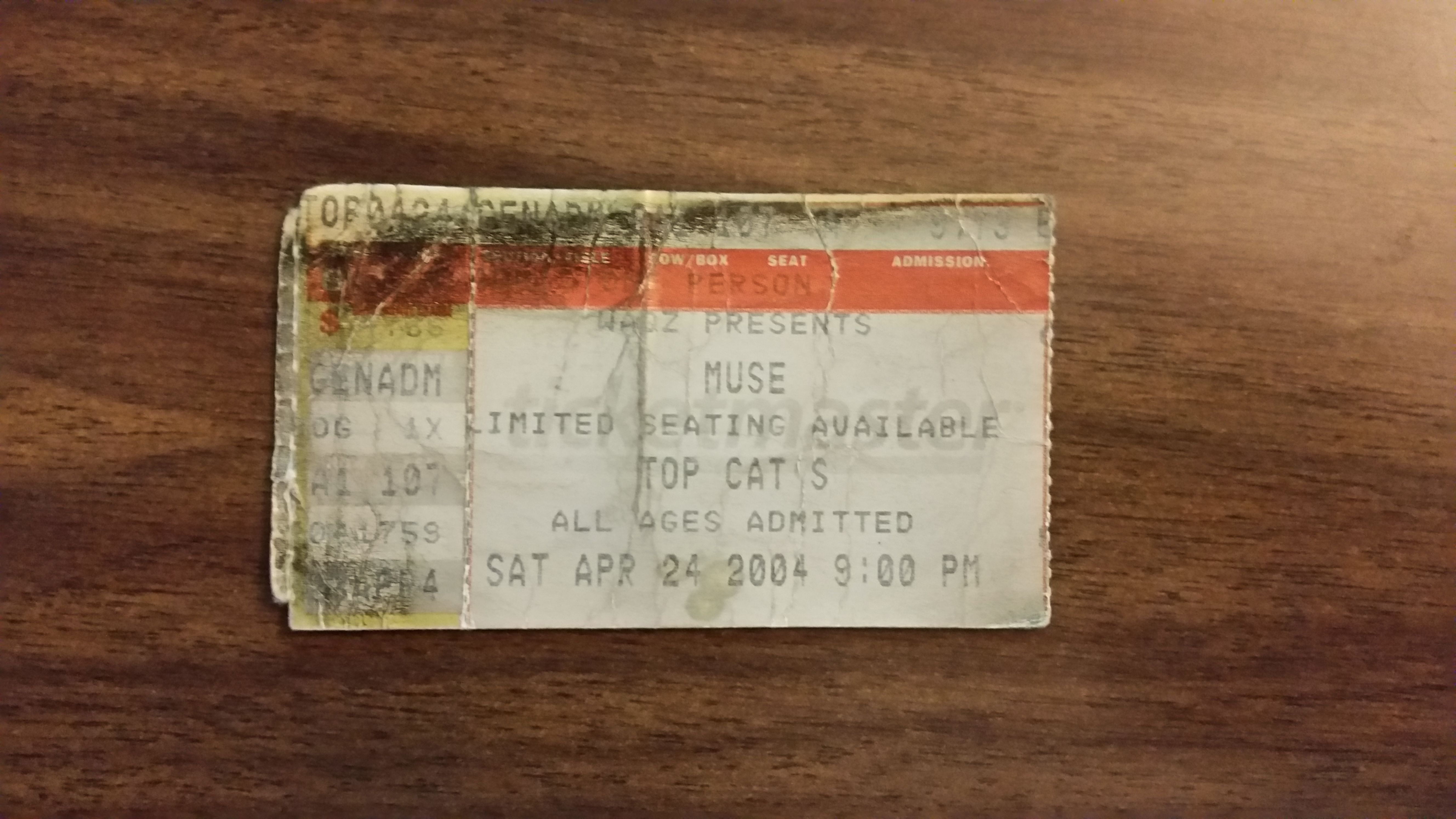 Fifteen years ago this week.  Saturday 24th April 2004. Muse.  This was just after the release of their third album, Absolution.  The album had come out in late 2003 over in the UK, but in the United States, it came out in March 2004.  By this time, Muse were already selling out arena shows in Europe, being seen by thousands of people… but they hadn't blown up on this side of the Atlantic yet, and they were playing rather small venues on this tour.  At Top Cats, I got to see them with about 300 other people. To the credit of the good folks of Southwest Ohio, this show sold out in a matter of minutes. One of my close friends was standing at Ticketmaster right when tickets went on sale, and he bought a supply for our group. 
There are probably only a couple of shows in my life that I was more excited for than this one.  I really loved the first Muse album, Showbiz. I thought the second album was good as well, though I didn't have quite as much affection for it.  By the time of the show, Absolution was on near constant rotation in my collection. This was before Muse went on their Queen-influenced big grandiose rock star stadium strutting journey… I mean, the band they are now was surely in there somewhere, but they seemed somewhat more down to earth then…still tight and loud and melodic, and there were only three of them. 
I remember how the crowd was packed into the venue.  Moving around was quite near impossible, let alone trying to fight one's way to the bar for a beer.  I remember the booms for the microphones resembling a futuristic erector set. I remember that opening riff to "Sunburn" being played on piano as it should be, when I had seen it played on guitar the previous time I had seen Muse live.  I remember a light show that seemed way too advanced for a tiny venue like this. I don't remember a song called "The Groove", but the Internet surely does, and when I watch this video, I try to find myself and my friends.  (Also, not a mobile phone in sight.)  I mean, look at this video.  Doesn't seem like the same band, does it?
The setlist spanned all three of the albums they had released to that point, heavily leaning toward the most recent one, of course. This was a great rock and roll show from a great rock and roll band, arguably at the height of their powers, and in a venue that was too small for them. 
Matthew Bellamy sang during the show opener, "I'm breaking out / I'm breaking out"... truer words were rarely spoken.