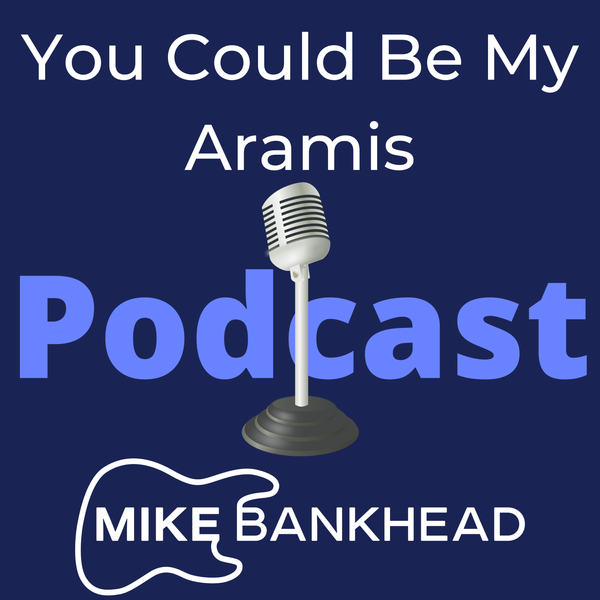 I started having conversations for my podcast in December 2021. The last episode I released in 2022 was number 74.  Considering I started off with an "Episode ½" on 31st December, that's a total of 75 episodes over the last year.  
What have I enjoyed about having a podcast?  The best part is the conversations.  First of all, this is a way for me to do what my doctor instructed me to do.  Last year in November/December, I was in a pretty dark place from a mental health standpoint... darker than normal.  My doctor said that one of the things I should do is to have a meaningful conversation every day with someone who is NOT my wife.  Now, in the last few months, I've been awfully lax in getting my daily meaningful conversation in.  (If anyone wants to help with that, I'll take volunteers.)  That said, every time I record a conversation for the podcast, that totally counts. Second, it turns out that people are awfully interesting if you let them talk about something they are passionate about.  Just taking a moment to listen to people and ask appropriate questions is pretty cool.  Third, sometimes I feel like this is a useful endeavor for the community. I really miss Gem City Podcast and the fine work they did. I especially looked forward to the Wednesday episodes featuring a local musician or band. Now that they're gone, there's an empty space in the Dayton area for someone to talk to local musicians about their work. I've been making an attempt at filling that space, and hope that eventually, listeners will come to look forward to my conversations with Dayton artists the way I looked forward to Izzy Rock's conversations.
Of course, there are parts of the process I don't like.  Sometimes, the tools I use fail. I recorded a great conversation with Paul Monnin of Age Nowhere, and somehow the sound ended up completely distorted and garbled. If you listen really hard, you can figure out what is being said, but it sounds awful and grating, and I wouldn't foist that upon anyone. Also, editing the podcast... that's not so much fun. One might not realize how many times things like "uh", "um", "like", and "you know" are said during conversations, but there is a level at which using those terms over and over becomes distracting, so I tend to prune them out of conversations.  That's incredibly time-consuming.  After editing, I usually do another listen in order to glean ideas to write the Show Notes.  There was a time when I would consistently use time stamps in the Show Notes to mark highlights of the conversation.. that's even MORE time-consuming, so I haven't done that in awhile.  Hey, as a podcast listener, is that something you'd like to see more often?  I don't even really know whether putting in that extra work is adding value or not.  I've thought about hiring someone to handle that work for me, but I'm pretty sure I can't fairly pay the going rate for that work at the moment, so I'll keep on doing it myself.  At least that's another skill I can put on a resumé, right?
Of the 75 episodes, 30 of them include women.  That should be 50 percent of the episodes, and I didn't quite get there, so I'll try to do better in 2023.
Here are what I think are the most notable episodes of the last year:
The longest episode
The longest episode is also the most recent episode, number 74, featuring Juliet Fromholt and Taylor Ruckle. We're talking about our favorite albums from 2022, and the duration is one hour and forty-five minutes.
The most popular episode
More people listened to my Episode 7 conversation with Tod Weidner than any of my other episodes. It's clear that he means a great deal to the music community here in Dayton.  This one went up way back in February 2022, so it's about time I have him back to nerd out on songwriting and music some more.
The most important episode
You might think differently, but for me, the most important episode is number 30, with Brian "Z" Zisook. He is the cofounder and Senior Vice President of Operations at Audiomack. He's a professional journalist who now is now an executive helping to run a music streaming service. 
In his own words: This isn't a company created by and of silicon valley based tech bros... this company was founded by and employs a lot of creatives who come from backgrounds in the fine arts... these are people who understand the plight of the aspiring creative...
This episode is important for musicians who release music.  If you are one of these people, you should pay attention to how truly passionate Z is about music and the people who make it. He wants to see us succeed. He and the team over at Audiomack are building their platform in ways that allow listeners to directly support us financially. That's not the case with the other streaming services, where we are only a source of content. Z wants people to hear us. Educating us on how the business works and helping us to improve are also very important to him, and he is often handing out useful advice for free on his Twitter account.
This episode is important for music listeners.  The folks at Audiomack work on their algorithm to ensure that it serves you the music YOU want to hear, as opposed to giving heavy priority to whatever the most popular major-label song of the moment is due to labels having a stake in the service. Audiomack World is an excellent source of discovery, consistently providing editorial recommendations from actual real humans. If you are a listener who values the people who create the music you listen to, recognize it as hard work, and believe that one should generally be paid for one's work, Audiomack has a way for you to directly support an artist you believe in, if you choose to do so.
This episode also contains a direct message from me to my fellow musicians in Dayton.  Sure, I don't think anyone really paid attention to it, but I meant it at the time and I still mean it.  If you would like to know what that is, well, listen to this one.
The interesting stranger who I'd love to have a beer with episode
An excellent multi-national band called Jenny and the Mexicats were going to stop at Levitt Pavilion here in Dayton for a concert. I really wanted to see this show, but I was going to be out of town. I volunteer at Levitt Pavilion, and thought that I might be able to help to promote the show a little bit.  When I contacted the band, bassist Icho Van responded, and our conversation in English is Episode 52.
Icho has an interesting life story. He's a hard worker, doing the tasks that would normally be handled by a band's manager. He's out there living his dreams, playing music he believes in, touring the world, and finding delicious things to eat everywhere. His band has had the privilege of playing an NPR Tiny Desk show. Despite all of his success, he's quite normal. Icho is easy to talk to, friendly, and cool.  (Part of this might be because he plays bass.)  I'd love to grab a beer with him, and maybe watch a game where his beloved Buffalo Bills are playing.
El episodio con el desconocido con quién me gustaría tomar una chela
Una banda excelente llamada Jenny and the Mexicats tenía planeada dar un concierto aquí en Dayton, Ohio.  En su gira, iban a tocar en el Levitt Pavilion, y la entrada fue gratis. Quería mucho asistir a este concierto, pero tenía que viajar fuera de la ciudad. Sirvo de vez en cuando como voluntario en Levitt Pavilion, y pensé que por lo menos podía ayudar con promocionar el concierto un poco.  Cuando escribí al grupo, fue el bajista Icho Van quién me dio respuesta, y nuestra charla en español se halla en Episodio 51.
Icho tiene una historia bien interesante. Trabaja muy duro.  Hace las tareas que normalmente haría el gerente de una banda. Este señor está viviendo sus sueños, tocando una música feliz y energética, haciendo giras alrededor del mundo, y decubriendo bastantes comidas muy sabrosas. Tiene mucho éxito, y un nivel de fama, sobre todo en México. No obstante, es completamente normal. Icho es amable, muy buena en conversación, y uno se siente muy a gusto con él. (Sin lugar a dudas, una razón por eso es que toca el bajo.) Me encantaría tomar una o dos cervezas juntos, y quizás mirar un partido de fútbol.
The episode that changed my life
Even though Episode 9 aired in February, the conversation actually took place in December 2021.  My guest was Becca Wonka, a delightful and effervescent French musician who lives in Los Angeles. We talked for nearly three hours.  Yes, only one of those three hours was actually recorded for the podcast.  We hit it off.  The conversation meandered back and forth from French to English.  If you listen to the episode, I estimate that 70% of it is in French, but I put time markers in the show notes so you can skip around to the parts you are likely to understand. 
This is probably not a surprise to you, but it is extremely difficult to make a living as an independent musician.  It's not impossible, but there's a long path and a lot of work to get there. I am not remotely close to profitable as a musician yet.  When Becca and I had this conversation, I had recently left my corporate job.  Shortly after our conversation, her lovely husband introduced me to his industry, the business of adaptation. To shorten what would otherwise be a long story, that's now my gig that actually pays.  I owe a debt to Nico as a mentor that I will never be able to repay.  I owe the same debt to Becca for recognizing that this line of work is something that I can do, and for recommending me to her husband.
A great deal of the mental health progress I have made over the past year is attributable to being much MUCH less stressed out by work.  By no means am I "cured" or "well" - and I likely never will be - but I am in a better place now, and even occasionally feel slightly optimistic.
La conversation qui a changé ma vie
Bien qu'episode 9 est sortie en février 2022, la conversation entre Becca Wonka et moi avait lieu en Décembre 2021. Elle est française, d'origine nantaise, et habite maintenant à Los Angeles. Becca a une passion profonde pour la musique, et elle parle avec joie et enthousiasme. On a bavardé pendant trois heures, dont une heure est enregistré pour le podcast. Si vous en écoutiez, vous allez trouver aux "show notes"que j'ai mis quelques indices pour dire quand on a parlé en français et quand on a parlé en anglais.
J'imagine que vous savez déjà que c'est extrèmement difficile gagner la vie comme musicien independent aux Etats-Unis. C'est pas impossible, mais on doit bosser beaucoup et il faut être très patient. Je ne gagne pas encore ma vie comme musicien. Quand j'ai bavardé avec Becca, je venais de quitter un boulot d'entreprise. Quelques jours après qu'on a parlé, le mari de Becca m'a parlé pour m'inviter à apprendre le business d'adaptation. Actuellement, c'est ça ce que je fais pour ètre payé. Je dois un dette envers Nico que jamais je pourrais lui payer, et c'est pareil avec Becca pour comprendre que je puisse faire ce type de travaille et me recommander à son mari.
*****
No matter how long you've been listening to my podcast - whether a year, a month, a week, or a day - thank you very much for choosing to spend some time listening to me talk to interesting people. I sincerely hope that you have enjoyed sitting in on my conversations, and warmly invite you to keep on listening.  If you have something you are passionate about and would like to talk about it, contact me, and you could totally be a guest. 
In 2023, I'm planning to release a new music project that I poured so much of myself into, and when I start promoting it, I'll have podcast conversations with the wonderful and talented people who collaborated on this project with me. I can't wait for you to meet them and all of the other individuals who I'll be speaking with.