I went to Philadelphia for the first time a couple of months ago to see Failure.  I'll have more to say about that later.  For now, I'd like ask you:  What's the first thing you think of when you think of Philadelphia?  Some of you will say the Rocky series of movies.  Some of you will say the Liberty Bell.  Those of you who are my people - people who enjoy delicious things - will say cheesesteaks.  Across the rest of the country, isn't this food item generally referred to as a "philly cheesesteak"?  The name of the city is inseparable from the food.
Since I was in Philadelphia for a few days, I made it my mission to taste as many different cheesesteaks as I could.  Alas, that number only reached 4.  I'd like to tell you about them, in order from my favorite to my least favorite.
My favorite cheesesteak was from John's Roast Pork.
I know what you're thinking.  The place is called John's Roast Pork, shouldn't you have gotten a roast pork sandwich?  I did.  This is what it looked like.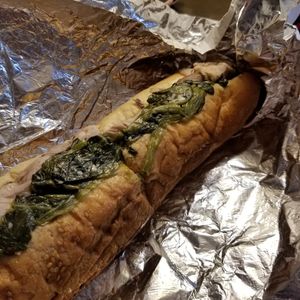 The signage at John's goes out of its way to remind you that this is spinach on the roast pork sandwich, and NOT broccoli rabe as one might expect.  This thing was delicious.  I ate half of it, and my wife handled the other half.  This left room for their cheesesteak.  Voilà: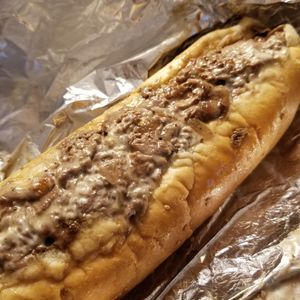 Note how the steak and the onions (WIT baby) and the cheese are all cooked together so as to become homogenized.  This is what the imitation cheesesteaks around the country are doing wrong.  I've NEVER in my life had a cheesesteak this good.  Why can't restaurant folks make a pilgrimage to Philadelphia, take some detailed notes, and then make steaks like this?
My second favorite cheesesteak was from Ishkabibble's.
Specifically, it was from the Ishkabibble's II location. As usual when my wife and I are being tourists, we get around mostly on foot.  We had done a lot of walking all day, and though we had a nice dinner with plenty of drinks, I felt like a snack a little after.  It was a couple of miles on foot from where we were over to Ishkabibble's.  They are open gloriously late, and this thing of beauty really hit the spot.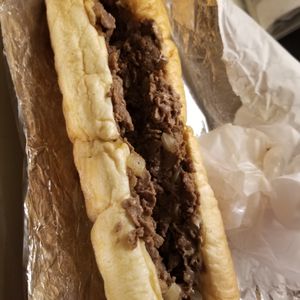 I was so enthused that I might have been dancing in the street whilst carrying this steak.
My third favorite cheesesteak was from By George inside the Reading Terminal Market.
I love watching people cook.  I love eateries that let you watch people cook.  I had a clear view of the cheesesteak assembly process at this location.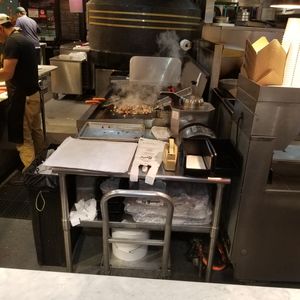 This was the only cheesesteak I had that came with sesame seeds.  Look: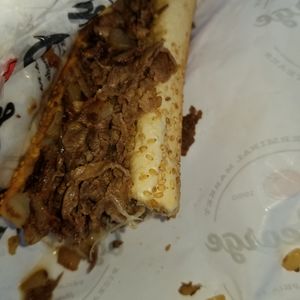 Now, the sesame seeds certainly weren't necessary, but they did provide a nice textural contrast and a little nuttiness.  The steak was, once again, delicious.
My least favorite cheesesteak was at the airport on the way out.
Yes, I'm a seasoned traveler.  Yes, I should know better than to think that any airport food other than One Flew South is going to meet expectations.  However, I reasoned that I was still in Philadelphia, it couldn't be that bad.  Well, dear reader, I did not enjoy this cheesesteak.  I managed to eat all of it, but I did so begrudgingly.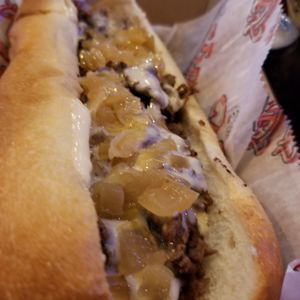 Let's start with the bread.  It wasn't the right texture.  The steaks wasn't properly seasoned. Look how the cheese is separate from the meet and onions, instead of being one happy homogenized food substance.  This is the kind of cheesesteak you'd get in, say, Indiana.  This is not what you are looking for.