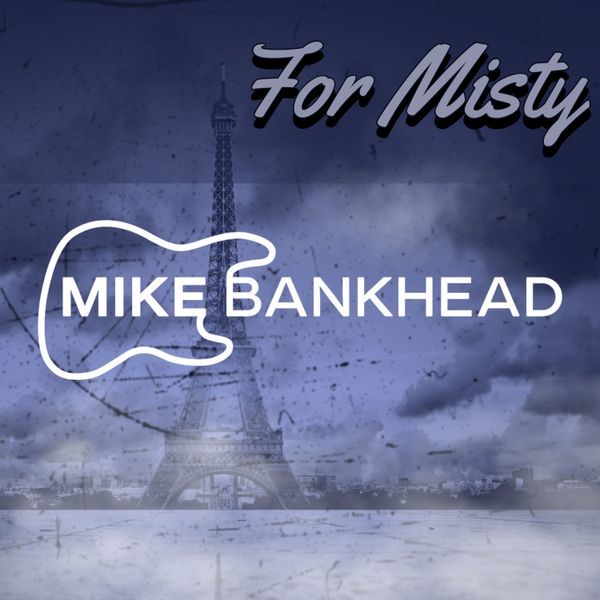 artwork by Rob McCowan of Odd Hourz Creative
I don't often write happy songs.  I don't ever write songs about my wife.  The reason for both of these things is that my attempts generally turn out to be awful.  Low quality.  Banal.  My wife has come to accept that neither she nor our relationship are about to be subject matter for my art.  Surprise!  Here's a change of pace.
3rd November 2022 was our 15th wedding anniversary.  That's worth celebrating in a special way, so we're over in Mauritius not working and enjoying a vacation.  (Clearly, I'm writing this blog entry well in advance of our departure.)  I'm not great at anniversary presents.  I think the last decent one from me was a set of diamond earrings, but alas, I am no longer in the jewelry buying business.  However, I can manage to write a song as a present. That's the decision.  Misty gets a song.
I started by borrowing the chord progression from one of my favorite Radiohead songs.  Next I worked out a melodic structure, being careful to make sure the melody didn't sound anything like the song from which I took the chords.  (I challenge you to figure out which song the chords are from.)  I knew that I wanted the overall feel to be like an Elbow song.  Remember, we both love Elbow.  
Verse 1:
A gentle tremor wakes me, I look out the window of the train 
The golden hills of Burgundy, brighter in life than in paint 
Where white and red are pseudonyms for Meursault or Beaujolais 
This is better now that you are here
Those lyrics are about our visit to France's wine-producing region Bourgogne.  I had been there before when I was much much younger and single. Some time ago, we went as a couple.
Verse 2:
Market in the morning, shouting from the street in the night 
Cobblestones and Catalan, saffron threads and candlelight 
Sudden crushing sickness that I don't have the energy to fight 
This is better because you are here
We went to Barcelona for our 5th anniversary.  I managed to get the worst food poisoning of my life on this trip.  That experience is now immortalized in song.
Verse 3:
A gentle tremor wakes me, I look out the window of the plane 
The takeoffs and the landings, cruising altitude, champagne 
Walking through the streets of Paris, Nouméa, Marseille 
This is better because you are here
My first version of this song did not have a third verse.  I remember discussing this with the kind gentleman who engineered the song, Rich Reuter.  He thought a third verse would be a good thing.  Also, I thought I'd get closer to feeling like an Elbow song with a third verse.  When it came time to do the vocals, Rich told me that my lyrics weren't good enough.  He was right.  I took a few minutes and re-wrote the third verse.  This is much better.  It even has a reference to an Elbow song or two, though I doubt it's enough to get me sued.  Like the rest of the song, it's one hundred percent based on reality.
Chorus:
Side by side never mind the where 
Up and down good and bad to share 
Having holding even when I break 
Losing you is more than I can bear                         
So don't you disappear
There you have it.
I came to Rich with the song all structured out, and as we talked through it, there were some changes.  I knew I needed a bridge, but I wasn't sure how to go about it.  Rich wrote the instrumental bridge, and came up with the idea for the bass solo by noodling around on a guitar. I liked the notes he played, and figured that it would make more sense to have a bass solo in this song than a guitar solo.  Rich also ran with my idea of double tracking bass in the turnaround after the second chorus... we've got a nice bass harmony in there.  Due to the changes he made to the song, it's only fair that he gets an official songwriting credit.  His ability to understand the mood and feel I was going for led to excellent instrumental choices.
"For Misty" is very likely my best vocal performance thus far.  Previously, I think it was this song, or perhaps this one, but not anymore.  I'm the only vocalist here, and I'm proud of the harmonies.
Normally I would link to it here, but remember how I'm writing this blog entry in the past?  Well, this song is a surprise.  At the time of writing, Misty doesn't know that it's a thing.  Assuming I executed my plan correctly, she found out back on November 3rd, which was this past Thursday.  I encourage you, dear reader, to go listen to "For Misty" on the streaming service of your choice repeatedly and often.  If you'd like to give us an anniversary present, you can download a high quality version of the song over on my Bandcamp page for $15, or if you can wait a couple of weeks to give us that present, I'll have it up on my official website here when we get back from our trip.
Credits where credits are due:
Lyrics by Mike Bankhead 
Music by Mike Bankhead & Rich Reuter 
Mike Bankhead - bass, triangle, vocals 
Rich Reuter - guitar, keys 
Kyle Sweney - drums 
Engineered & Mixed by Rich Reuter at Homeway Studios in Dayton, Ohio 
Additional Engineering by Seth Canan & Chris Stewart at Trojan City Studios in Troy, Ohio 
Produced by Rich Reuter & Mike Bankhead 
Mastered by Tim Pritchard at Great Horned Audio in Dayton, Ohio 
Artwork by Rob McCowan at Odd Hourz Creative in Austin, Texas 
©℗ 2022 You Could Be My Aramis Music (BMI)